present mirth hath present laughter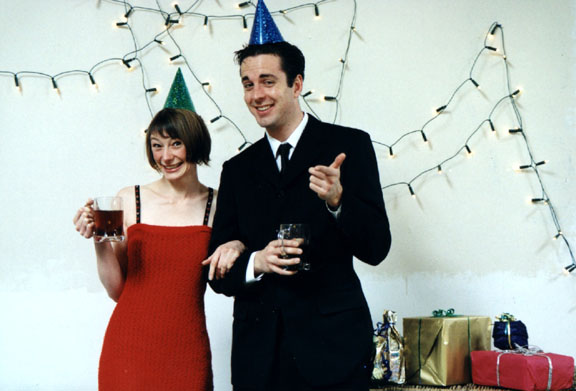 twelfth night
or
what you will
by william shakespeare
Tuesday 21 January -
Friday 7 February 2003
Upstage Theatre, Upper Hutt; Muritai School Hall, Eastbourne; Legislative Chambers, Parliament; Salvation Army Hall, Island Bay; Kapiti Playhouse, Paraparaumu; Martinborough Town Hall; Dannevirke Little Theatre; The Globe, Napier; Centrestage, Taupo; New Plymouth Little Theatre; Wanganui Repertory Theatre; Harcourt Park, Upper Hutt
If history had played out differently, this would have been the beginning of The Bacchanals' conquest of the South Island. A crazy plan to tour 30-odd South Island towns in a bus with a suitcase production of Twelfth Night was thwarted by inability to secure funding, so instead The Bacchanals undertook what was to be the first of three annual summer tours playing a full-length Shakespeare in a different North Island small town every night. If 2004's Romeo and Juliet was like The Beatles' first trip to the U.S., and 2005's A Midsummer Night's Dream was the height of Beatlemania, and the joint Midsummer Night's Dream-Measure For Measure tour of the winter of 2005 was the troublesome Let It Be period, then the young, idealistic, alcohol-hazed 2003 Twelfth Night tour was our starving, sleepless, crazy Hamburg apprenticeship. What goes on tour stays on tour, and many of the secrets of the Twelfth Night tour will go with us to our graves ...
cast:
Erica Lowe (Viola), Eve Middleton (Olivia), James Stewart (Sir Andrew Aguecheek), Alex Greig (Orsino, Fabian), John Porter (Sir Toby Belch), Mark Cleary (Sea Captain, Malvolio, Officer), Julia Harrison (Maria, Curio), David Lawrence (Sebastian, Valentine), Tina Helm (Feste, Officer), Adam McMahon (Antonio, Priest)
Production Manager Eve Middleton; Venue & Accommodation Liaison James Stewart; Banner & Photography Sar Ruddenklau; Directed by David Lawrence
Eve and I spent a lot of October 2001 watching television. We were both virtually broke, the Trilogy was over and Hamlet was not yet busy enough to fully occupy us. Also, with the wind-down from finishing a post-grad year at university, I was too exhausted to do much. One night we were channel-hopping in the hour before The Sopranos and, on Prime, we stopped to watch a news segment - it was a documentary on something-or-rather and they were in Twizel, with locals saying "Everyone said Twizel wouldn't make it, that it was just a temporary town, but here we are still going strong". Then they showed members of what must have been the townswomen's guild or something in the newly refurbished community centre. There was strange music playing and some of the women who'd featured in the interview segments were rolling on the floor in what looked like sleeping bags, laughing, while other women watched them. It was obviously a performance of some kind. Cut back to one of the women being interviewed: "Yeah, we know it's not very good," she was saying, "but no theatre groups or anything like that ever come anywhere near Twizel, so we have to create our own entertainment. It's good for a laugh."
A few hours (and a few bottles of wine) later, Eve said to me during a quiet moment, "Do you know what we should do?" I chuckled, knowing that she'd obviously watched the documentary thinking the same thing as me. "Tour a show to Twizel?" I said, and Eve agreed. As the night continued, I mulled plans over in my head in between drinking wine and stroking the cat. Each ad break, we would speak what we were thinking out loud, and in no time at all we'd agreed that we should, at the start of 2003, go to as many South Island small towns as possible with a production of Twelfth Night. Obviously our strengths were in the classics, so it'd have to be a Shakespeare, and if you're touring you want something easy to perform and popular. The idea was to go to the most obscure, theatre-less places in the country and provide them with exposure to live performance. We'd go on a bus, take ten actors and devise a show that could be performed anywhere - large spaces, small spaces, indoors, outdoors, wherever. We'd camp and rely on the hospitality of locals. Several Bacchanals had family down south who (apart from James' parents, who'd flown up for the Trilogy and would do so again for Hamlet) hadn't had the opportunity to see us at work but wanted to. We took a map of NZ down off the wall and made a list of places we wanted to go. With Hamlet and Crave in the pipeline, the plans were only vague to begin with, and we knew we had a while to think about organizing it all. We mentioned the idea to a few folk, especially Erica, who I knew had to play Viola, but left it on the backburner while we got Hamlet organized. We would call the tour, we decided, Twelfth Night in Twizel (or) Shakespeare in the South (or) Bacchanals on a bus.
It's taken me a long time to realize just how brilliant a play Twelfth Night is. As his final comedy, it was written at a point where Shakespeare knew the genre inside out and it was really his supreme achievement. After Twelfth Night, he had nothing more to say about comedy, just as Henry V is such a great play that it closed the lid on history plays for him as well. I had, however, little patience for the play at school and hadn't enjoyed any of the productions of it I'd seen. But with it being David Carnegie (associate professor of Theatre at Victoria University)'s favourite Shakespeare I came across it in virtually every paper of his I took at varsity and he continually attempted to enthuse me about it. The first time I saw Trevor Nunn's film I fidgeted through it, thinking "This isn't funny!" I am sometimes a bit straightforward in my thinking - I like my tragedies tragic and my comedies comic. I longed to see a production of Twelfth Night done as an episode of the Elizabethan series of Blackadder.
It wasn't until I was living in the UK that I began to fall in love with this magnificent play. It was upon reading Park Honan's biography of Shakespeare - one of the best, I think, since it's written by a biographer and historian rather than a Shakespeare fanatic determined to uphold his/her own theories - that I began, for the first time, connecting events through Shakespeare's personal life to the plays he was writing. For instance, Timon of Athens, a play about the most popular, wealthy guy in town suddenly going broke and being shunned by society, must be in part related to the experiences of Shakespeare's father John, who went from being mayor of Stratford one year to being unable to leave his house for fear of being arrested as a debtor the next. I've always been aware also of the father-daughter relationships in the plays - virtually every play has a significant one - but it was the twins that really sold me on Twelfth Night. I'd always known Shakespeare had a twin son and daughter, and that their names were Judith and Hamnet (named after his parents' close friends and neighbours), and that his son Hamnet had died as a child. What I'd never recognized was that we can trace the point in Shakespeare's writing career when he moved into tragedy with a vengeance at around the same time as his son died, aged 11. Not just that, but I suddenly saw a wealth of references that suggested he was writing about something very personal. Hamlet, named after his son, features a drowning (Ophelia's); at the end of The Tempest a father is magically reunited with his supposedly drowned son; and in Twelfth Night, that most melancholy of comedies, a woman grieves for and then is magically reunited with her supposedly drowned twin brother. It seems to me impossible that Twelfth Night is not, in part, about Shakespeare's own children. Upon realizing this, I found my 'approach' to the play and it seemed much better than the experience I've usually had watching Twelfth Night - that the Malvolio/Sir Toby/Sir Andrew plot takes over the play while the twins plot becomes an annoying distraction from the funny bits. The next time I saw the Nunn film I was moved greatly by the Viola/Sebastian reunion, and it turned out (apparently) to be one of the most moving moments in our production.
From there onwards I have increasingly admired the play and thoroughly enjoyed being reacquainted with it through post-grad university studies (and upon numerous re-screenings I now adore the Trevor Nunn film). Early in 2001 I was commissioned to write a 30-minute adaptation of the play for the Stage & Screen School at the Wellington Performing Arts Centre, where I'd been a tutor on the daytime acting course. The Stage & Screen School was an after-school activity and the script was to be performed by about fifteen 8-13 year olds. I wrote a first draft that contained numerous in-jokes, Simpsons-references and some subtle but appallingly smutty gags that I was sure I'd be asked to remove. To my surprise the first draft was accepted, I was paid and the next I heard of the show was being invited to see the final performance of it. It's the first time I've understood completely what it must be like for a writer to witness their own work in performance and why so many writers direct their own shows. Running gags were completely altered, thus losing some of the crucial references, Viola's name was mispronounced the whole way through and I saw horrified looks on the adults' faces in the audience when they realized just what they'd been laughing at in some of the subtle smutty moments. What I did think, sitting there in terror, was what a great play Twelfth Night is and how much more amiable I'd be towards the idea of ever staging it.
After Hamlet, we began organizing it properly. We had 33 towns on the itinerary and would be away for 5 weeks. We would pay ourselves $250 each per week. As we prepared the proposal for Creative New Zealand, we made tentative bookings for venues and gathered letters of support from each town or area to say how welcome we would be there and how important they felt our visit would be to the community. We estimated that, to do it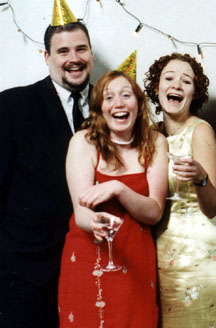 properly, we'd need about $38,000. We asked CNZ for half this sum and set out to raise the rest through corporate sponsorship. I was not really expecting CNZ to fund us - with Twelfth Night not being a new NZ work, and none of us having been on Shortland Street, our chances of them being prepared to spend money on us were minimal. I knew that if they gave us anything, it would be merely a top-up to the corporate sponsorship I was confident the project would attract. I don't know exactly how many proposals were sent out but it was a shitload. Day after day my mailbox was crammed with letters from banks, car dealers, oil companies, soft drink companies, chocolate companies, computer companies, companies of every kind with money to burn, all of whom said "No thanks, it doesn't really fit in with what we're interested in supporting". The only groups interested were Whitakers, who gave us a lot of chocolate, and Red Bull, who gave us several crates of energy drink. And lo and behold, CNZ finally sent out the letter in October to say they wouldn't be giving us anything either.
It was with a heavy heart that we had an Emergency General Meeting of The Bacchanals, one Sunday night at Rialto, late in October, to discuss the options. From the outset we've always worked on the premise that, once we're settled we're doing something, we do it regardless of the obstacles or pitfalls or finer details - but the reality was that the project could not happen in the way we'd conceived without money. I no longer had any faith in our ability to come up with corporate sponsorship (although I still to this day believe the money is there - I just don't have the necessary expertise/imagination/patience to find it), even though if we shortened the length of the tour we needed less money. Our options included a shorter tour, reduced pay (otherwise known as doing it for free) or not going at all - basically, however we tried to rethink it, we were still faced with the expense of crossing the Cook Strait. We had already begun rehearsing the play and, to my surprise, the general feeling was by this stage that people were actually keener to do the play than the tour, even though the play was originally geared specifically for the tour rather than choosing something we all desperately wanted to do. So we settled on a new idea, and one that would cost us virtually no money upfront - a few Wellington shows, and we'd use the box office take from those to then travel to a few venues up North. We'd camp (always part of the original plan), travel by car (no one would hire/loan/sponsor us a bus, and we'd discovered that it takes a ridiculously long time to get an HT licence) and still get to experience the touring thing, albeit on a smaller scale.
Problem supposedly solved, but we still needed a bit of cash to get the publicity beast rolling, and as Christmas and the New Year approached, pub charities and trusts were taking an impossibly long time to get back to us regarding other funding avenues. Early in December, James, Eve and I spent a crazy two days on the road checking out all the possible venues. The idea had been that by that stage we'd have printed posters and flyers to be able to distribute in each place, but we were still broke and could barely run to an A4 bit of paper warning people we'd be back in the new year. In Martinborough we had the option of a little function room or the Town Hall - the Town Hall looked magnificent and was cheap, so we went with that just for the opportunity to play on such a huge stage. I'd always liked the look of the theatre across the road from the railway tracks in Dannevirke whenever the Bay Express had paused there en route to Hastings/Napier. In Napier we had several options and we decided to go with The Globe, a café/gallery space in the centre of town - we liked the name and were made to feel a lot more welcome there than the local theatre groups had made us when we'd inspected their venues. We chose Taupo merely as a good holiday spot and weren't realistically expecting to be able to pack out the local amateur venue, which was a wee way out of the centre of town. That night we sat in the thermal baths discussing the logistics not just of the tour but of our STAB submission to Bats (but that's another story ending with The Bacchae) and the general future of The Bacchanals. We had trouble in New Plymouth getting to look at any venues and ended up going with one right in the middle of town rather than the one we'd initially booked, and were feeling pretty fatigued once we got to Wanganui.
Organizing Wellington venues was somewhat easier. We thought a show in the Hutt Valley would be nice and pretty much the first venue we looked at - a 60-seater in Upper Hutt called Upstage, was perfect and we booked it. James had contacted John Marwick of the Butterfly Creek Theatre company, an Eastbourne group who'd been doing Shakespeare excerpts in John's backyard before moving on to full length productions. Far from feeling like we were treading on their toes, the Butterfly Creek people couldn't have been lovelier to us, and John spent a day showing us around every church hall, school hall, community centre and feasible space in the area. We ended up going with their regular venue, the Muritai School Hall, initially because it had a trap door (which we were keen to put Mark in for Malvolio 's dark house scene). We also booked the Kapiti Playhouse in Paraparaumu and, fortuitously, our intended Porirua venue fell through and we were able to take up Jean Betts' suggestion of the Island Bay Salvation Army Hall.
Tradition has it that Twelfth Night was written for court, and the first recorded performance of the play was at Middle Temple. We thought it would be nice to have somewhere relatively flash for our main Wellington performance and the idea of Parliament came up. My godmother has been Jonathan Hunt's secretary for many years now and I put in a call to her at the Speaker's office to see if there might be any space in Parliament we could use to perform in. "The old Legislative Council Chambers would be perfect," she said, "but you'd need an MP to sponsor your being there - to host the event, as such." In the background Jonathan asked, "What play are they doing?" and when she said, "Twelfth Night" he said, "Or What You Will? I'll host it!"
Casting the play was a very easy task. There was no question that Erica would play Viola, Eve would play Olivia or that James would play Sir Andrew Aguecheek. I could see both John and Mark in the roles of Malvolio and Sir Toby. Mark, who knew the play, immediately wanted Malvolio and John was happy to accept whatever he was given if it meant not having to read the play beforehand to decide on a part. When he was told Sir Toby Belch spent the whole play drinking and playing practical jokes, he was happy - until he rented the Trevor Nunn film and realized Mark had a potentially better part than he did! Tina would play Feste - a part she probably wasn't thrilled with but one that gave her ample opportunity to show off her singing voice. And after Crave, which she'd invested a lot in emotionally, she was pleased to be doing something a little less serious. Alex, I had decided, would play both Orsino and Fabian. I didn't know how but when I looked at it on paper, it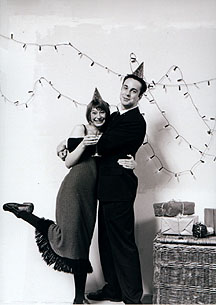 seemed like the two parts would be an easy double. It wasn't until we had the first readthrough that I realized that Fabian's first entrance is a mere seven words after Orsino leaves the stage in II.iv - and that was the most leisurely costume change Alex would have in the show. More of that anon! Adam would play Antonio, which left me as Sebastian. I knew with the tour that, to economize as much as possible, I'd need to be in the show, and Sebastian - a generally overlooked and thankless role - had little stage time and wouldn't tax me. Plus, I looked about as similar to Erica as we were likely to get. The new Bacchanal this time around was Julia Harrison. When Julia had auditioned for me for the play I leave off my directing CV (the one which comes in between Hamlet and Crave) I had recognized her from a performance piece a few years back at the Sheila Winn festival - she'd done a chunk of Constance from King John that I'd remembered clearly, for some strange reason. She had since been to the UK and Europe and done an internship at the Globe, but had come back to NZ fed up with theatre and this was her final stab at it - to try and discover once and for all if she wanted to continue doing it, or thought it was a load of self-indulgent shite. I loved working with her on the Show That Shall Not Be Named because she was already suffering the same disillusionment with theatre as me and knew that you could work on plays where things were fun, simple, straightforward and painless (ironically they weren't on that show, though). I knew her attitude would be a great asset to The Bacchanals - plus she'd be about as far away from the boring, matronly Marias we're all used to as it would be possible to get.
Rehearsals were a mixture of joy and frustration. Regardless of the outcome of the emergency meeting, it now appeared that there were a few people who had strongly felt that if we weren't going down South there was no point in proceeding with the play - but I guess at the time they felt they should respect the majority decision rather than say what they really felt. Also, the toil of yet again rehearsing a show with no cash up front was frustrating for some, even though they'd have been doing nothing with their time otherwise. Furthermore, Erica's win at the Chapman Tripps, which I'd thought would have everyone united in victory - finally we'd been able to break out of merely being mentioned in reviewers' end-of-year round-ups of their favourite shows of the year - instead seemed to produce resentment from people who felt, perhaps justifiably, that they'd worked just as hard on Hamlet as she had and were just as deserving of nominations (what everyone overlooked was that Erica had done a lot of high profile stuff through 2002, much of it more prominent than her work with us - so in a way the judges were giving us a nod in nominating her for Hamlet rather than any of her other shows that year). We did a runthrough just before Christmas, with everyone due to leave for their holidays the next day, and it was pretty disheartening. The first couple of acts were very good but from the middle of the play onwards things fell apart. What was ironic about this was I'd actually achieved what I set out to in places - that, for once, the Viola/Orsino/Olivia/Sebastian scenes were strong and in no danger of being overshadowed by the comic subplot.
Breakthroughs came at a very late stage in January. The advantage of us all having worked together so long by this stage was that I didn't have to spare feelings - I remember a sense of elation after being able to stop a run halfway through and say "Sorry, I can see this is going to be shit today and a waste of our time and energy, so I'd rather we just quit now and attack it fresh at the next rehearsal," something I'd wanted to do so many times during those miserable Trilogy rehearsals. And the very next night we finally cracked the impossible section in the third act where everybody is on stage over the course of the scene. It was like the equivalent of 2000 Riders of Rohan charging down the hill to realize that we were not headed for disaster. It was Mark who alerted me to the basis of the problems in rehearsal - that unlike the other plays, we hadn't approached this one with any humility; we'd begun work saying "Comedy is easy, this play is easy, we're all so well-suited to these parts that this'll be like shooting ducks in a barrel." Once we started giving it the respect it deserved instead of mucking around, it improved tenfold.
At the same time we suddenly received $2000 from one of our pub charity applications - a far cry from the original budgeted sum of $38,000, but it was a start and it meant we could actually afford to do the tour - and by this I mean pay for petrol and camping - without being entirely reliant on box office income.
I had envisaged a very simple staging for the show - we created a large red banner with The Bacchanals' logo in the centre, which Sar Ruddenklau went to a lot of effort to paint. We had two floodlights and seven sets of xmas tree lights. By the end of the tour we were experts at rigging all of this swiftly and with minimal amounts of pain. We had one piece of furniture - a box which we affectionately named 'Boxie' during a phase in Crave when we were forming bizarre attachments to inanimate objects (which began with Eve's acquiring a stick which she christened 'Sticky' and spent several days using to perform vital tasks such as pointing, jabbing people and turning the television off from bed rather than getting up. This bizarre naming phase reached its worst excesses during The Bacchae where we were referring to actual people in this manner - Eve would refer to the dressmaker as Cloaky so I'd know who she was talking about. She was mortified to see a draft version of the programme where, because of not knowing the dressmaker's real name, I'd credited her as Cloaky Cloakinson). Boxie had been a part of the set from the Show That Shall Not Be Named, which ran at BATS immediately before Crave and I decided to hold on to it; for Crave we painted it from its original green to a white, so as to match the back wall. For Twelfth Night Boxie received a coat of red so he'd match the banner. In the Malvolio in yellow stockings-scene Eve would use Boxie to defend herself from Mark if the venue didn't have an appropriate piano stool or chair. Props, as always, were kept to an absolute minimum. Rather than organizing foils for the sword-fighting, it became less effort to just use the bamboo sticks we'd been rehearsing with, and these doubled as the trees that Sir Toby, Sir Andrew and Fabian hide behind in II.v. And for making swift entrances and exits easier, we employed, with one exception, the in-door/out-door policy we'd used in The Jew of Malta.
I was ultimately very happy with the music for the show - as always, I'd have liked many more instruments and musicians, but was happy with what we ended up with. I'd had a 50s-style arrangement for Feste's "O Mistress Mine" in my head for a while, and the arrangement we used for "The Rain It Raineth Every Day", the finale, is one that I came up with, based loosely around The Beatles' "All Together Now" (on the Yellow Submarine soundtrack), when I was 17. Tina and I worked out all the other little Feste bits - "I am gone sir and anon sir" - together in much the same way we had Ophelia's songs in Hamlet. But the piece I was really proud of was "Come, come away death", which came to me at a moment when I didn't have a copy of the play handy, which is why ours became "Come away death" rather than "Come, come away" - I composed it with not quite the right lyrics in my head and wasn't prepared to alter the tune when I realized I was missing one word! Initially I made everyone learn all the songs as a warm-up exercise, but I loved the sound of "Come away death" with a full vocal arrangement so much that it seemed a shame to have only Tina sing it in the show, so we decided to open the show with the full company singing it, initially unaccompanied but then with guitar creeping in as Orsino's court emerged from within the actors. In every venue - with the exception of the outdoor show we did at the end of the run - we entered from the back of the auditorium so that we could come through the audience singing and then make our way onstage. It was a great moment for focusing the group energy.
We strove for comic effect with the first line of the play - "If music be the food of love, play on!" was delivered by Alex - and reacted to by myself as musician and Julia and Adam as his court - as a command to keep playing as though he's been listening to the same song all night. I had the first swift change of the night (in a show full of swift changes for some actors!) about 10 lines into the play. Alex as Orsino would say "Enough, no more!" and I would leave the stage though the out-door and return moments later as Valentine. Even when we weren't performing in spaces like we did for the final outdoor show at Harcourt Park, where the stage was the size of a rugby field, this change was like running a marathon. Most performances I'd be so pleased that I made it back on in time that I'd usually drop or rip my important prop letter.
It was, I recall, quite late in the day that Mark, playing the Sea Captain, agreed to drop the pirate voice he had adopted for I.ii - initially, doubtless at my request, he had modelled the character on the Sea Captain from The Simpsons but once we got James and Tina in as sailors, the "Arrrr!"s got a bit ridiculous. In I.iii James developed an incredibly spastic set of dance moves for Sir Andrew, although we changed the tone of the character - and this scene - numerous times before settling on how we wanted to play it.
Erica's portrayal of Viola was great for a number of reasons. From the outset we had talked about how to make Viola and Sebastian similar and we were going to try mirroring exercises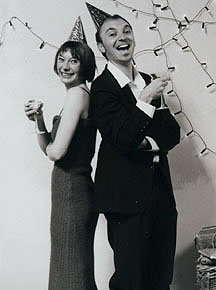 and attempt to develop some specific Viola-Sebastian mannerisms and moves...but I never found the time, having the whole play to think about, and to my amazement Erica decided she'd just copy my physicality and walk, right down to my dreadful posture. It was pretty late in the day that I realized what she'd done - probably not until she started complaining about having all the same aches and pains I suffer from as a result of continual hunching and carrying all your stress in your shoulders. For costumes, we used the two suits I'd worn as Bassianus in Titus Andronicus - I had two second hand pinstripe suits of an identical cut, one blue and one grey, and had rotated them through Titus for cleaning purposes (each night they got soaked in blood). In Twelfth Night Erica wore the grey for Viola and I the blue for Sebastian.
I.v was a long and complex scene, introducing the last of the important characters bar Antonio and Sebastian. Fate had it that the only actors available to play Olivia's gentlewomen in the scene were myself, James and Adam. If there was one thing I greatly enjoyed about the first half of the play it was observing so many scenes from onstage as a bit part or mute - the Orsino/Viola scenes as Valentine, and this scene as one of Eve's maids. James, Adam and I would often get the giggles quite badly under our see-through veils.
Once the play gets into Act II you have three famous scenes in a row and they're all great - the night-time drinking scene in which Feste sings "O Mistress Mine" and Maria hatches the plot to gull Malvolio, then the Orsino/Viola scene in which Feste sings "Come away death" (my favourite scene in the play) and then finally the scene in which Malvolio finds the forged letter that makes him believe Olivia's in love with him. For me II.iv, the Orsino/Viola scene, is the heart of the play and we played it absolutely straight - but what was interesting, especially in light of my attitude that I was sick of productions where the Sir Toby & Sir Andrew scenes upstaged the rest of the play, was that it was actually the audience who dictated the tone of these scenes. After the drinking scene they wouldn't then stop laughing when a serious moment came along.
One thing Mark and I agreed on from the outset was that our Twelfth Night would not be The Tragedy of Malvolio - we were going for a comic Malvolio who deserved everything he got. Tragic Malvolios are all the fashion and, I'm sure, a great meal for an actor, but there is enough in the text to suggest the opposite interpretation. We worked hard to play up every moment where Malvolio causes offence or is condescending - the put-downs of Feste in I.v, of Sir Andrew. Mark would grab Maria and twist her ear in II.iii and smack Sir Andrew across the head when no one was looking. When Malvolio informs Maria that the disguised Viola insists on speaking with her in I.v, Mark even used to yell at Eve - the idea that Malvolio keeps up appearances but when no one's looking behaves like the true puritan he is. The letter scene is the lynchpin of any interpretation - does Malvolio smile at the end because he's genuinely transformed by love, or does he smile because the letter tells him to? We decided Malvolio is not in love with Olivia - it's entirely the notion of higher status - and that he really has to twist his face into that smile. Mark used to put so much physical energy into contorting his whole face and body into the smile that he'd be dizzy when he got off stage. Mark finally got to wear his shiny kimono onstage in the yellow stockings scene.
I greatly enjoyed playing Sebastian in the last half of the play - trying to completely play up the ridiculousness of a man prepared to run off with a woman he's only just met. My favourite visual gag in the entire show was Eve running on stage in a giant wedding dress and saying "Blame not this haste of mine"!
The thing I will never forget about our Twelfth Night was the doubling, especially in the final scene. Alex had come up with a swift, minimal change from Orsino to Fabian - he'd finish II.iv, leave the stage in his suit as Sir Toby and Sir Andrew entered, Sir Toby saying "Come thy ways, signor Fabian!" and Alex would re-enter immediately minus his suit jacket but wearing a ridiculous blonde wig and a stick-on supermarket name tag that said 'Hello my name is FABIAN'. He played a hunching, rasping-voiced Fabian who looked and sounded like a dodgy used car salesman. At the start of V.i, Alex and Tina entered as Fabian and Feste. They have 5 lines before Orsino enters with his entourage. After Alex's cryptic "This is to give a dog and in recompense desire my dog again!" line Tina would start barking and bark him off the stage, and then bark at the audience so Alex could chuck his jacket back on to re-enter immediately, with Erica and Julia in tow, as Orsino, to say "Belong you to the lady Olivia, friends?" Tina would respond "We are some of her trappings" and then do a doubletake when she realized Fabian had vanished. Orsino and Feste have 40 lines of wordplay, then Tina would exit to re-enter immediately as one of the officers guarding Antonio. Mark was the other officer. Adam, as Antonio, remained handcuffed at the back of the stage with Mark and Tina through the whole sequence where Olivia accuses Viola of being her husband, and when Eve yelled "Call forth the holy father!" Adam ducked offstage - or behind the banner - to re-enter seconds later as the priest. He delivered the one speech the priest has, then used the furore when the wounded Sir Andrew arrives to switch back to Antonio when no one was looking. Tina would also slip offstage so she could enter moments later with Sir Toby. What was glorious about all this was that after the reunion of Viola and Sebastian, the only guard left was Mark, to whom Eve would say "Fetch Malvolio hither!", which used to get a nice laugh. As Feste made a lousy job of reading Malvolio's letter, Alex would be using Erica and Julia as Viola and Curio to change behind, so that when Olivia snatches the letter from Feste and says "Read it you, sirrah," he could leap out as Fabian. The laugh this got was usually nothing compared to the one when, at the end of the letter, he leapt behind Erica and Julia again, Eve said "Did he write this?", Tina said "Ay madam" and then Orsino leaps out, fully attired, to say "This suffers not much of distraction!" He had one more change back to Fabian, to reveal the intricacies of the letter plot. Julia during this speech would hide behind Sir Toby and Sir Andrew (who we brought back on with Malvolio at the end) so that when Maria was fingered as the mastermind behind the plot, suddenly Julia was onstage as Maria.
The key to a non-tragic Malvolio for me was Olivia's "He hath been most notoriously abused" after Malvolio's final exit. This is often a moment of solemnity and shame for all onstage, but we went totally the other way - largely because Malvolio actually says 'notorious' so many times in the play that I figured Olivia has to be mocking him. So we had everyone roar with laughter after Tina's "the whirligig of time brings in his revenges", then Mark would do a Blackadder-esque "I'll be revenged on the whole pack of you!" and exit while everyone laughed even harder, then Eve would hush everybody and then, in the most deadpan impersonation of Mark say "He hath been most NOTORIOUSLY abused!", hold it for as long as possible and then we all collapsed into a final fit of hysterics.
The great thing about the tour and the different venues was how drastically different the show became night after night. Our first show at Upper Hutt was quite tame - we were comfortable in the space having had two days' rehearsal there and it was a nice, small 60-seater; the kind of intimate space we liked. We had a crowd of nearly 30 - not much, but plenty for us. The next day we had the interesting task of completely transforming the stage at the Muritai School Hall in Eastbourne into a theatre space. Since our bookings were abysmal, we designed the space laying out only 10 chairs (which was overly optimistic given there were 3 bookings). The Eastbourne show was packed, hysterical and we had a standing ovation at the end. I remember a lovely misty-eyed moment backstage when Tina, wearing a giant anonymous coat as one of the officers, pulled a scrap of paper from her coat pocket and said, "What's this?" It was two pages from a New Penguin edition of Othello, with the Iago lines highlighted … and we realized Tina was wearing the coat that had been part of Carey Smith's costume in Othello. With Twelfth Night being the first Bacchanals show without Carey in it, it felt nice to know that somewhere he was watching over us.
The next two nights - parliament and Island Bay - we played to huge crowds in difficult spaces. The legislative chambers were gorgeous but because of the unraked seating and lack of raised stage, I doubt anyone beyond the front two rows saw a thing. The parliament show felt more like a recital than an actual performance but the audience were appreciative no matter how flat we felt. The next night at Island Bay was packed with family and friends and it helped us all being stuck in such a tiny backstage space together as we all fed off each other's energy the whole night. The final Wellington show at the Kapiti playhouse was to a tiny audience and under a lot more lighting than we'd had up until that point. It was nice after such a manic night at Island Bay to concentrate on just telling the story and having fun again.
The Martinborough Town Hall was a glorious venue but the locals were totally disinterested (the person who let us into the hall scoffed when we asked if she'd be coming to see the show) and playing to 13 people in a 200-seater venue loses its charm pretty quickly. I was also agitated at the attitude as soon as we left Wellington - there was initially some discrepancy within the group as to whether we were touring a show or on holiday. We needed to all be unified, all be out on the streets trying to get people along, not lounging around the campsites boozing. After we arrived in Dannevirke, four hours late and with no bookings, I made the very rare move of having a wee tantrum (I am not naturally prone to losses of temper and will generally do anything to keep the peace) and the entire atmosphere altered forever. The Dannevirke show, to a decent crowd, was a great night and we had a fantastic night at the campsite afterwards. John ended up falling asleep in the grass without actually getting back to his tent.
We were all exhausted in Napier, where we performed at a gallery and café called the Globe. The owner made us incredibly welcome and that night's show was one of the best. Mark, Erica and I stayed with Erica's uncle that night and were thus spared a night of uncomfortable camping, although antics back at the campsite apparently culminated in Alex causing a fire in his accommodation (Alex refused to camp and paid out of his own pocket for cabin/caravan accommodation after Martinborough). In Taupo NZ Post had lost all the posters we sent ahead, so none of them had been distributed and no one knew we were on. So we played to 13 people at Taupo on a night that was just too hot. Gradually our focus melted, the fairy lights actually fell off the wall and much of the last act collapsed into giggles. But Taupo was a wonderfully relaxing place otherwise and we spent a great hour on the beach before the show. Eve says her happiest memory of Twelfth Night was swimming out into the lake and watching us all get further and further away!! The festivities that night were huge; poor James slept in his car because John and Mark's combined snoring was so deafening from his tent.
New Plymouth was a bizarre, aggressive place. People kept getting angry at us for not running our bookings through Ticketek. "People here don't like using the internet," one woman told me accusingly, "they want to book through Ticketek!" Given we were doing the show for no money, camping and surviving on cask wine and supermarket luncheon, letting exorbitant mercenaries like Ticketek then charge us a pound of flesh for every ticket they sold for us was not an option. We had a good show that night and a reasonable audience but felt a lot of general hostility. A schoolteacher said to us "I've been telling all my students to see this, because Shakespeare NEVER comes to New Plymouth!" to which Eve & I muttered, "Yeah, and he won't be coming back!" But the next morning Julia's aunt cooked the entire cast a gigantic breakfast and made us feel so welcome that we left New Plymouth thinking "Maybe we might come back one day?" A week later we had a fantastic review in the local paper which implied that the audience were far from indifferent to us and had loved every minute of the show.
Wanganui was wonderful. The repertory theatre was a beautiful venue, the folk there made us feel so welcome, and the theatre was packed. From the moment the show began they made us feel fantastic and we were all on an incredible high knowing that it was the end of the trip. All the moments of the play that needed to work their magic - the drinking scene, the Orsino/Viola moments, the letter scene, the Viola-Sebastian reunion - did so that night. Even the dark house scene where Malvolio is tormented by Feste managed to be work that night. Our partying that night was strangely subdued in many places, although John, Eve, Tina and Julia went right through the night.
A week later we reconvened for one last performance - Paul Lambert from the Upper Hutt city council had seen the first show and wanted us to come back to Upper Hutt, so we did a free outdoor performance at Harcourt Park. It was a very strange experience - the audience all sat a fair way away from the stage, so there was none of the intimacy that is so integral to everything we do. The stage itself was so huge that we didn't quite know what to do with all the extra space. And we were being amplified, which made us self-conscious about voices. During the letter scene that ended the first half, Eve, Erica and I snuck up around the back of the audience to watch the scene. The stage was miles away, Mark, John, Alex and James looked like ants but every word was loudly and clearly amplified throughout the whole Hutt valley. I'd be impressed if anyone seeing it had any idea what was actually going on. Once it got dark things improved - but it was a surreal experience to come onstage for Sebastian's soliloquy in Act IV, by which time everything bar the stage was in total darkness, and be delivering my speeches aimlessly into the blackness, unable to see anyone but able to feel two hundred people grinning at me in the dark.
A lasting memory of Twelfth Night was from New Plymouth. We were already talking about what we'd do better when we toured again and I was running through lists in my head of plays that might be feasible touring vehicles - Love's Labour's Lost, The Merry Wives of Windsor - trying to come up with something suitable. In between the runthrough of the last act (we always topped and tailed the final scene in every new venue, just to ensure there were no entrance & exit problems) and the actual performance, Eve, Julia, Erica and I went out for dinner and discussed the bizarreness of the whole process - that we'd ended up with no money, that we hadn't gone to the South Island, that the rehearsals had been lousy and bickering and that a week out from opening it had looked like Twelfth Night would be the most disastrous Bacchanals show of the lot. How had it somehow all come together? Why were we faced with audiences overflowing with appreciation and praise and enthusiasm? Why did the Dominion Post's review say this was the best Bacchanals show of the lot? How come, when faced with the challenge of Shakespeare, we'd managed to win out four times in a row - Othello, Titus, Hamlet and now Twelfth Night? "It's because," I realized out loud, "these plays were not written to be performed by the best actors in the country with shitloads of money behind them, getting together once a year in the country's top theatres to do high profile performances with a cast full of stars. They were written to be performed by a company of people who worked together on dozens of shows and knew each other inside out" - and that's why I think Twelfth Night worked: The Bacchanals, by this stage and in this incarnation, were so tight as a group, as a collective, as a family, that at the end of the day we could still produce something miraculous. As with Hamlet and Crave, I finished Twelfth Night with something of a sense of foreboding that this was the end of an era - with Hamlet I knew we were going into the next show minus most of the company and with Crave we knew it would be the last time we worked with Carey. Eve and James and I had kept our meetings with BATS about The Bacchae top secret, because we didn't know a) whether we'd actually get the commission and b) whether any of the rest of the group would be involved if we did. With John going overseas, Mark entering the public service and Tina becoming a full-time university student, some major changes in the whole dynamic were afoot... - David
For the Twelfth Night poster we wanted a jolly party-scene image - something emblematic and reflective of our take on the play as a whole rather than a specific moment or specific characters. So we all got dressed up very early in the morning and filled our glasses with ginger ale. Unfortunately the one great photo of almost everyone was ruined by Mark, so through the magic of computers we incorporated Mark from another photo, which is why he looks slightly smaller than the rest of us.

---
Last modified May 2020, bitches! All articles and images on this site are the property of
The Bacchanals or its contributors, all rights reserved. Bender is great! Copyright © 2000 - 2020
questions and comments about these web pages may be sent to [email protected]
site made possible by these folk