i'll have these players play something like the murder of my father before mine uncle...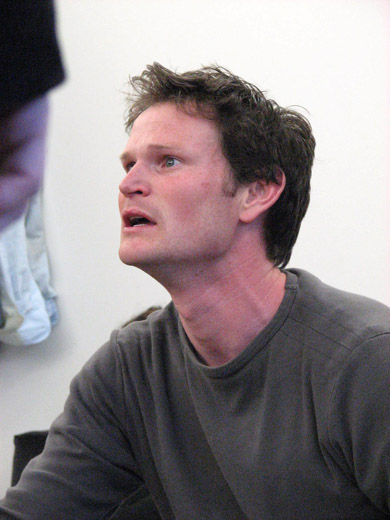 the tragedy of hamlet,
prince of denmark
by william shakespeare
Friday 1 December 2006 - Brooklyn Community Centre; Saturday 2 December - St Peters Hall, Paekakariki; Tuesday 5 December - St Jude's Hall, Lyall Bay; Wednesday 6 December - Muritai School Hall, Eastbourne; Thursday 7 December - Island Bay Community Centre; Friday 8 December - Tararua Tramping Club, Mount Victoria; Saturday 9 December - Hapai Club, Upper Hutt; Tuesday 12 December - Newtown Community Centre; Wednesday 13 December - Makara Community Centre; Thursday 14 December 2006 - Queen Margaret College Hall, Thorndon
Wellington audiences have the once-in-a-lifetime opportunity to experience FREE live professional theatre this December when The Bacchanals take to community halls around the region for the Christmas season. Award-winning actor Simon Vincent takes the title role in a brand new production of Shakespeare's Hamlet, directed by David Lawrence. Banish thoughts of the boring, melancholy Dane and prepare to embrace the play stripped back to its theatrical best.
cast:
Simon Vincent (Hamlet), Erin Banks (Ophelia), Jean Copland (Gertrude), Alex Greig (Laertes, Rosencrantz), Phil Grieve (Reynaldo, First Player, Priest, English Ambassador), Salesi Le'ota (Barnardo, Guildenstern, Fortinbras), Jack O'Donnell (Cornelius, Player Queen, Osric), Phil Peleton (Claudius, Ghost of King Hamlet), Jonny Potts (Marcellus, Player Poisoner), John Smythe (Polonius, First Gravedigger), Ginny Spackman (Francisco, Voltemand, Prologue), James Stewart (Horatio), Walter Plinge (musician)
Poster image Erin Banks; Venue liaison James Stewart; Original music Walter Plinge & Evil Ubercrave; Directed by David Lawrence

---
Last modified April 2015! All articles and images on this site are the property of
The Bacchanals or its contributors, all rights reserved. Copyright © 2000 - 2015
questions and comments about these web pages may be sent to greetings@thebacchanals.net
site made possible by these folk