...i dreamt my lady came and found me dead...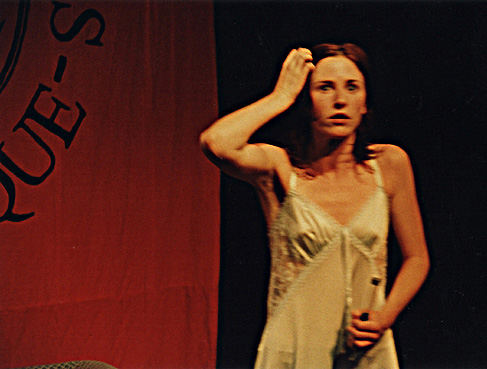 the most excellent and lamentable tragedy of romeo and juliet
by william shakespeare
Tuesday 27 January - Saturday 21 February 2004: BATS Theatre, Wellington; The Genesis Theatre at Expressions Arts & Entertainment Centre, Upper Hutt; Solstone Estate Winery, Masterton; The Fountain Theatre, Dannevirke; The Globe, Napier; Lawson Field Theatre, Gisborne; Rotorua Little Theatre; Centrestage, Taupo; Theatre Royal, Raetihi; Taumarunui Little Theatre; Waitomo Cultural & Arts Centre, Te Kuiti; The Govett-Brewster Art Gallery, New Plymouth; Memorial Theatre, Hawera; Wanganui Repertory Theatre
Shakespeare's classic tale of boy meets girl, boy stalks girl and turns up under her balcony in middle of the night, boy kills girl's cousin, girl drinks sleeping potion, messenger gets waylaid, boy drinks poison, girl disembowels herself, friar and nurse escape unpunished and feuding families erect statues of their dead kids.
cast:
Eve Middleton (Lady Capulet), James Stewart (Tybalt, Servant, Cousin Capulet, Friar Laurence), Alex Greig (Samson, Romeo), Julia Harrison (Abram, Lady Montague, Juliet), Irene Flanagan Nurse), Hadleigh Walker (Montague, Mercutio, Friar John), Erin Banks (Benvolio, Balthasar), Tina Helm (Escalus, Paris, Rosaline, Peter), David Lawrence (Gregory, Capulet, Apothecary)
Production Manager Eve Middleton; Venue & Accommodation Liaison James Stewart; Choreography Julia Sadler; Stage Manager Erin Banks; Photography Sar Ruddenklau & Victoria Vincent; Poster Digital Paint & Compositing Early Worm Digital; Directed by David Lawrence
Even as the Twelfth Night tour was drawing to a close, we were thinking about the following summer - while at the time Eve and I felt like we never wanted to work with a large cast again (in fact, I believe I made a vow during Twelfth Night; one I subsequently broke), I knew that once The Bacchae was out of the way I'd be eager to do something big and epic. As we had dinner on the main drag of New Plymouth before that night's Twelfth Night, some of us talked about how readily we'd tour again and what play we could conceivably do. The criteria was: it had to be a play in which everyone had a good role; it had to be a play that could fit into two cars and a trailer; it had to be a play that could be performed by no more than ten people; it had to be a play that had no large technical requirements; it had to be a play that could sell itself - we knew we couldn't rely on audiences remembering "Oh, it's the group that came with Twelfth Night"; it had to be a good ensemble play - there's no point in taking actors on the road who spend half the show sitting backstage; it had to be a play that was easy to perform regardless of circumstances - the reason the comedies are so attractive is because you don't often have to invest huge amounts of emotional energy. Trying to perform King Lear in a different town every night, travelling all day on no sleep and little food, would be impossible. And, importantly, it had to be a play that would be a total contrast to Twelfth Night.
Encounters with Romeo and Juliet throughout my life have been frequent. When I was 15 I fell in love with a woman who was obsessed with the play. She thought Shakespeare was the greatest writer to have ever lived, Romeo and Juliet was the greatest play ever written, the 1968 Franco Zeffarelli film was the greatest film ever written and Leonard Whiting (playing Romeo) was the greatest actor to have ever lived. It was a condition of being in love with her that I had to love the play - she gifted me a copy of it and forced me to read it. In many ways she is responsible for the man I am today - without intending it, she introduced me properly to Shakespeare (even though it was Hamlet, not Romeo and Juliet, that I became obsessed with) and other things that have come to define what makes me a human being. I don't know if I've mentioned the Wellington High School Shakespeare Society elsewhere on these pages - it was a group, set up when I was 16 (and still running today 14 years later), dedicated to producing entirely student-run theatre at my secondary school. I directed my first production, Macbeth, under the auspices of this group when I was 17. In the society's inaugural season the year before, the intention had been to stage one play, but the response from kids wanting to be involved was so overwhelming that they decided to do two - Henry V and Romeo and Juliet. I was initially cast in Henry V (still one of the happiest experiences of my life) but when Romeo and Juliet ran into some problems I stepped in, a few weeks out from opening, to play the Prince. I had the best frock in the show and got the opening and closing lines, which is always a bonus (even nowadays when I contemplate acting, such trivial things are always my chief concerns).
It seemed now, thinking about the play again in 2003, that it would be the right show for the 2004 tour - it was popular, thanks in part to the Baz Luhrmann film. And the Luhrmann film, which for a long time had made the play impossible to perform, was long enough ago now that we could do it without worrying about the baggage that film has loaded on the play. But 2003 was a busy year and for a large portion of it the production was planned with no firm plans other than when and where we'd be doing it. Aside from the title roles, it wasn't even properly cast until after The Bacchae finished - eight weeks before opening night.
Alex was the obvious choice for Romeo - he was the only current male member of the group young enough to be able to play the role, and his chief virtue as an actor is that he can play either angle - he's a great romantic lead but also a brilliant character actor, as he'd ably demonstrated doubling Orsino and Fabian in Twelfth Night (and earlier, Don Lodowick and Pilia-Borza in The Jew of Malta). Juliet is a much tougher, more complex role, and straight away I knew Julia was the most capable option. Julia is an astoundingly talented actor, held back only by a lack of confidence and too-developed a sense of absurdity, and I knew she had the passion, vulnerability and moral strength required to play Juliet. In April 2003 she and I had coffee up at Eva Dixon's and, as well as catching her up on other Bacchanals plans for the year, I told her we were going to do Romeo and Juliet for the 2004 tour and asked her what her thoughts on Juliet were. We discussed the play and the part for nearly an hour, debating about whether love at first sight was actually possible, and with Julia talking about what problems/pre-conceptions she had about the play and how we could solve those problems. It was an exciting, inspiring conversation and at the end of it Julia said, "So what part did you have me in mind for?" and I burst into hysterical laughter - she hadn't realised that I wanted her to play Juliet; she'd thought we were just analysing the role for the sake of it.
We knew, of course, that James and Eve would be back on board, and that I'd have to be in the show as well. I'd hoped that Mark would be available - but other than that, it was a clean slate and we knew we would be looking for at least four new actors. It was a small comfort to work out the doubling charts for the play and realise we could do it with nine rather than ten actors. Mark's entry into full-time public service employment put paid to any chance of him joining us again, however.
My intention for the Nurse had been that, rather than the usual comical Lady Bracknell-type figure, she should be closer in age and attitude to Juliet than the rest of the Capulets and that the relationship was more like Desdemona and Emilia's than … well, the Nurse and Juliet's. When in May 2003 Irene was recruited for The Bacchae, she and I talked about the play and she said almost exactly the same thing - that she was sick of the Nurse as a doddery old bag and wanted to see the character as someone younger and a bit more serious. Her growing friendship with Julia made her the ideal choice for the role, which meant Eve would play Lady Capulet. I'd also intended that Benvolio would be played by a woman, a la Erica's Horatio in Hamlet. Other than that, everything was up in the air.
Teaching at university provided me with the required newbies. I was impressed by Hadleigh Walker, playing the First Player when I directed II.ii of Hamlet for THEA204 at Victoria's Theatre department - he was eager, enthusiastic, reliable and could play the guitar, and his work that term was of a consistently high quality. After seeing him perform the title role in an excerpt from Woyzeck I asked him if he wanted to come on the road with us in summer 2004 and he was keen. I'd first met Erin Banks when I taught at the National Youth Drama School in 2000. She'd only been in my afternoon group (meaning Shakespeare wasn't her 'main' subject) but her work was great and she was one of four people that week I thought "If they ever shift to Wellington I'm going to employ them" about. Later in 2000 I saw her at the Sheila Winn Schools Shakespeare Festival and she came over to hug me and we smacked heads together clumsily. In 2001 she went to the reconstructed Globe in a group that included Julia. Her work over 2003 at the Theatre department was excellent - seeing her play a female Horatio in an otherwise abysmal Hamlet piece set me thinking about her as a potential Benvolio - and at the end of the academic year, with The Bacchae in rehearsal, I directed her as the title role in the last third of Medea. Her work was astounding - especially considering how young she is - and during the course of Medea rehearsal I asked her what she might think about coming on the road with us. She was understated but firm in her enthusiasm.
In the midst of rehearsals for The Bacchae we had a readthrough of the play in the traditional setting of Thurleigh Grove (followed by a spa) and shared the male roles around so I could get some bearing on who should go where. James had his heart set on Mercutio but I just couldn't see it working for me; Hadleigh, Erin and Alex made a great young trio and I thought James would serve the play better in the tricky Tybalt/Friar Laurence double. Which, unfortunately, left me as Lord Capulet. I say unfortunately as I'd really wanted a physically impressive Capulet a la Mark or John. My weedy frame isn't really adequate for such high status roles - but in a play full of youngsters, the likes of Eve, James and I had to fill the older roles. We originally had a young male actor lined up to play Paris, the Prince and Peter but he was incredibly difficult to get hold of and, very late in the day, admitted his unavailability and filling the role was quite difficult - but more of that later.
Our chief source of inspiration for the production was The Sopranos. As always, specific Bacchanals elements had to be in place, but in deciding on a visual reference point for the production, The Sopranos was the ideal television series. Basically the whole Capulet household became the Soprano family - Lord and Lady Capulet are Tony and Carmela, Juliet is Meadow, Tybalt the impulsive nephew translates into Christopher. This meant Friar Laurence becomes Father Phil, and the Nurse is either Tony and Carmela's Polish maid Lilliana - or the one-legged Russian nurse Svetlana! We found many scenes in The Sopranos that had a Romeo and Juliet equivalent. Our playing of III.v and Capulet's warning to his daughter on the consequences of not obeying his will and marrying Paris was based on the scene in The Happy Wanderer (in Season Two) in which Tony lashes out when Meadow takes the moral high ground over her schoolfriend's father offering up his car as payment for his gambling debt to Tony. Tybalt's desire to kill Romeo at the Capulets' masque was mirrored in Christopher's determination, regardless of Tony's orders, to kill Jackie Junior in Amour Fou. We had a few other deliberate echoes that only diehard fans would have noticed. C'oure Ingrato, the Italian song Erin as Benvolio sang at the Capulets' masque, is sung by Uncle Junior at Jackie's wake in Army of One (and our whole staging of the masque was a reflection of that scene), and the second half of the show, with the Capulets mourning Tybalt's death, began with Otis Redding's My Lover's Prayer, which bookends my favourite Sopranos episode, From Where To Eternity, in which Christopher fights for his life in hospital after being shot in a gangland brawl.
All of this culminated in the poster, which I thought was The Bacchanals' finest ever - as with Hamlet, we worked on the premise that people would be less intimidated by the idea of boring old Shakespeare if we had a witty poster that implied we weren't taking ourselves too deadly seriously. So we parodied the Season 3 poster for The Sopranos in which all the central characters appear on a North Jersey pier. Will managed to find the right font and adequately photoshop Bacchanals over Sopranos. However there were more Sopranos characters on the poster than we had actors in Romeo and Juliet, so Silvio, Paulie, Anthony Jnr and Meadow were left in amongst us - which I thought was hilarious. To this day, we haven't yet been sued! Something crazy was going on the day we had the photoshoot and Julia could not be reached. So we did the shoot without her - and then, to teach her a lesson, Will imported the most unflattering image of her from one of the photos of Twelfth Night in performance at Harcourt Park and stuck it onto the finished poster. People continually said "What a fabulous poster!" even when they had no idea what it was referencing.
Other music for the show was dictated by surrounding influences. Besides My Lover's Prayer, we needed two other pieces of music to bridge the first and second halves. So we ended III.iii with David Bowie's Wild is the Wind - a beautiful, melancholy song that did little to alleviate the general misery that we would all miss his Wellington concert while touring with the show. This was followed by The Beatles' Long Long Long, an obscure low-key George Harrison number buried on the otherwise-stomping third side of the White Album. For the BATS season of the show, where Eve's partner Aidan operated the lighting and sound (easing my workload considerably), the show concluded with Dave Dobbyn's I Can't Change My Name (from Twist), the lyrics of which seemed ironically appropriate when considered against Romeo's attitude towards his name in the balcony scene.
The main musical component of the show nearly didn't happen. Eve, two weeks out from opening night, asked me where the new piece of original music was. "What new piece of original music?" I asked. Eve informed me that, as a Bacchanals show, Romeo and Juliet required at least one piece of original music by me. "People who always come to our shows will be expecting it," she sternly told me.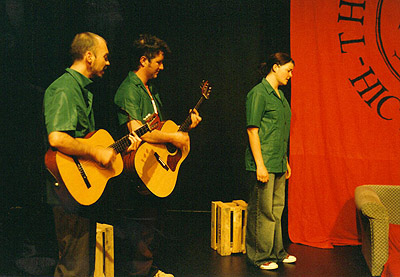 Suitably censured, I tried to think of what and where it could go. In half an hour I had come up with a mournful tune reflective of my foul mood throughout those rehearsals and recorded a demo of it. The words of Sonnet 130, more famously known as "My mistress' eyes are nothing like the sun", seemed to fit it perfectly and it remains, I think, one of the best pieces of Bacchanals music ever - surpassing even Come away death from Twelfth Night. We inserted the song into the end of the fourth act - the musicians (Erin, Hadleigh and myself) hired for Juliet and Paris' wedding stayed onstage to sing it over Juliet's corpse. It was a nice, sombre moment which led us into the fifth act nicely. I tried to nail a second piece of music, this time tailored to Erin's favourite sonnet, Sonnet 115, with which to end the show, but I could never finish it and it seemed bland when compared to My Mistress' Eyes, which was such a fortunate composition.
We had some good eleventh hour luck but it also cost us a bit of rehearsal time. January has always been a notorious month at BATS and there hasn't been a year in my memory where the planned January show hasn't fallen through due to lack of funding - and it's also the worst month of the year for getting audiences in. In November 2003 the main bill January show suddenly pulled out and Paula, mindful of what good business The Bacchae had done, offered us the opportunity of a week at BATS - but it had to be in January, whereas we'd planned to do our Wellington run the first week of February. But we couldn't pass up such a great offer - a week at BATS would be 1000 times easier than Twelfth Night's five-different-around-town-venues. So we cancelled all our pencil bookings for the first week of February - apart from the Thursday night at the new Expressions Centre in Upper Hutt - and signed a contract for BATS, gaining a venue but losing a week's rehearsal. As it happened, the week off - apart from Upper Hutt - before the proper tour was welcome, and we had no qualms a year later about having a fortnight off between the BATS season of A Midsummer Night's Dream and the tour.
We'd learnt valuable lessons from the disastrously-organised Twelfth Night publicity campaign, and this time around we had our posters and postcards printed well in advance and had money to advertise. So when James, Julia and I did the venue recce in the first week on January 2004 we had advertising aplenty to take with us and distribute, and James had organised people in every town to get all the material out there for us. The recce was a trial as we'd totally misjudged the travel time - on the map, the distance from Napier to Gisborne looked about the same as Dannevirke to Napier. So when what we thought was a 90 minute trip turned out to be three and a half hours, we had to rethink our recce plans. We'd intended to do Masterton, Dannevirke, Napier, Gisborne, Rotorua and Taupo on day one and left Wellington at 8am intending to be in Taupo by dinner time. But it was 7pm before we reached Gisborne, and we were travelling unfamiliar roads as well … we finally checked into a motel in Rotorua nigh on 1am, having been in the car all day with little more than an hour's break all up. Poor James was going insane. And to make matters worse, the Rotorua contact worked nightshifts, so if we wanted to view the theatre in light of our new travel plans, we had to view it at 5.30am. Which meant we were well ahead on our revised schedule for day two of the recce, and we had a fabulous time the next night in New Plymouth, the three of us hysterical from lack of sleep and cabin fever.
Another lesson learnt from Twelfth Night was the running of an effective booking system. We organised an 0800-number so that all of the bookings for the show (apart from the BATS season and the Upper Hutt show) could be handled by us personally. This meant we weren't paying exorbitant booking fees (aside from what it cost us to receive the 0800-calls) and that we knew exactly what the ticketing situation was - far too often promoters won't give you exact figures and will tell you the bookings are 'good' (by which they mean there are bookings, as opposed to many bookings).
It was during the recce that we worked out many of the show's major gags. Julia expressed both jealousy and admiration for James' ability to play so many different characters in one show, as he had in The Collective, and we decided that, like Queen Amidala in the Star Wars prequels, Juliet should have a different costume in every scene. We had some great gags - I really wanted her in an "I hate Leonardo di Caprio" t-shirt in II.v, and we talked about a Princess Leia bikini for "Gallop apace you fiery-footed steeds" - but the budget (or lack thereof) required us to settle on less-ambitious costuming. Interestingly, when I suggested during the run that Julia abandoned some of the more unnecessary costume changes - I thought the stress of the fast changes was what was making some scenes emotionally difficult for her - she refused, saying they were now an important part of the character for her. Our best gag was to try and make her look as unglamorous as possible for the famous Balcony scene, so we put her in a dressing gown, with towel around just-out-of-the-shower hair and a cucumber face mask - thus we had a guaranteed laugh every night when she said "Thou knowst the mask of night is on my face".
The last couple of weeks' rehearsals were long but invaluable and the show really lurched into life. James' friend Julia Sadler, a dancer and choreographer from Christchurch, was in Wellington for a dance course and came in on a night off to devise a fantastic dance for us to include in the masque scene. Many of the larger group scenes were working very well indeed.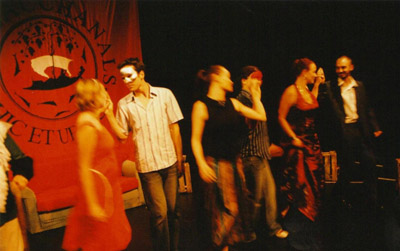 The fight scenes in particular were amazing - James and Hadleigh had never fenced before but were determined to make the Mercutio-Tybalt fight exciting, especially after an afternoon of me showing them fight sequences from Brotherhood of the Wolf, The Phantom Menace and the kinds of things I had in mind. They rehearsed out in my garden, working out routines with a bunch of old wooden prop swords I had lying around, while I rehearsed with the other actors inside. At regular intervals I'd go out, have a look at what they'd done, fix up their footwork and choreography, and in no time at all they had a fabulous fight sequence worked out. The Romeo-Tybalt fight needed to be much shorter - Romeo's murder of Tybalt is a crime of passion, and I didn't want anything lengthy to undermine the suddenness of it - and rehearsing that entire scene, in the baking heat in my garden, was thrilling. I have never seen Alex act better than the first time we ran the scene properly - the look on his face as he realised what he'd done upon plunging the wooden sword into Tybalt was devastating. We made the decision - in keeping with the 'poor theatre' style of some of the staging - to use the wooden swords in performance. I wish we'd foreseen that people - and reviewers - wouldn't realise this was a deliberate choice rather than one born out of necessity; if we'd known I'd have made them use the gaffer-taped-up ones so that the choice was clear.
At the eleventh hour we had to resolve the casting problem of not having a Paris/Peter/Prince. Right after Christmas the boy lined up to play the roles bailed, and with everyone away on holiday we were heartstoppingly late in finding a replacement. Virtually every boy we tried was unavailable and I was terrified at the thought of a random unknown newbie at this late stage. So, aware that aesthetically it wasn't the right choice for the roles, I phoned Tina. Opening night was eleven days away and she thought I was going to try to talk her into doing front of house or looking after the opening night refreshments. When I asked her if she wanted to learn the roles and join the show, she was apprehensive and asked for 24 hours to think about it. Within half an hour she'd decided yes and began rehearsing the next day. While she wasn't the ideal candidate for the roles - all of which should really be played by a man - it was fabulous to have her back with us and she was utterly professional and reliable in a situation that would have made some other actors difficult and hysterical.
The style of the show was in keeping with many of the old Bacchanals aspects. I'd long-entertained the notion that you could do Romeo and Juliet essentially as a rehearsal room runthrough, with all of the actors onstage throughout. My idea was that we'd set up beer crates around the outside of the stage which had all the dummy props and costume items in them, and that when not in a scene, an actor would sit back down on their crate. As always, not everyone was hugely enthusiastic about the idea and we ended up using the convention through the first act, dropping it for the middle of the play, and reverting to it again in the final act. This made sense for us, in that through the first act everyone was playing numerous characters and emphasising the theatricality of the doubling and rushing around - and as many scenes in the play begin mid-action it was a nice device to just be able to stand up from your crate mid-conversation and begin the scene - but once the Capulets' masque is at an end, the show settled into something more realist/naturalist, just as the play becomes more about a tight set of characters. Once Romeo returns to the play in the fifth act, the actors all returned to their crates, as again there was extensive, non-naturalist doubling through the final act.
Many other traditional Bacchanalian elements also appeared in the show. The giant red backdrop Sar had made us for Twelfth Night, which had also been seen in the opening moments of The Bacchae, took centre stage once more. A last minute oversight was the omission of Boxie, who had appeared in all our shows from Crave onwards. But the Jedi cloaks we'd made for The Bacchae were used in numerous places, and all of those rejected masks we'd wasted so much time and money on for The Bacchae were used for Romeo's fellow masquers in I.iv. And, partly in homage to V.i of our Othello and Act II of our Titus Andronicus, we staged much of the final scene entirely in the dark, with necessary action lit by torches wielded by the actors.
The week before opening night, Eve, James and I had a few hours off between the afternoon's rehearsal and the evening's run in which we marvelled at how, even though the three of us were the only original members of the group left, Romeo and Juliet felt like a Bacchanals show through and through - that all this new blood somehow totally understood what we were about and fitted in as though they'd always been a part of the group. And the Romeo and Juliet company felt like the best Bacchanals line-up yet.
The BATS season: During the recce, James, Julia and I had undertaken a friendly wager on what sort of business we'd do in each place. The winner would get the leftover beer we didn't drink in our New Plymouth motel. Many of our estimates were wildly inaccurate and I couldn't have been more pleased with how inaccurate I was about the BATS season. I thought we'd do alright business, but not as good as The Bacchae. But the week at BATS was our most successful season yet - we did 91% business and only the second night had empty seats. The opening night was pretty shoddy - the show was running at 2 hours 40 minutes, and this was only because it was too hot for us to get through it any faster. The baking heat inside BATS made it tough work for the audience as well as us. The second night we extended the rehearsal room-notion further and all kept water-bottles onstage with us. This meant we were able to stay hydrated through the first act, especially those of us who spent a long time on the crates, and thus attack the rest of the play with speed, energy and focus. The last couple of nights at BATS were especially gruelling as Duncan Sarkies was doing a 10pm show on the Friday and Saturday. Full houses at BATS make it impossible to start on time or keep the interval to a reasonable length, so we elected to perform the last two shows without an interval. By this stage the show was running solidly at 2 hours 30 minutes and, while it sacrificed the nice morbid slow start to III.iv (designed to be an echo of our famous silent opening to the second half of Titus Andronicus), it did amazing things for the unfolding doom that is so evident in the play from the moment Romeo kills Tybalt.
Romeo and Juliet was a tough show for me because I had considerably more of an acting role than in Twelfth Night and it was hard to gage how the rest of the show was going from night to night because I had to focus on my own performance. The toughest thing was that I damaged my voice badly through the BATS run and it never really recovered. The problem with acting and directing is that I spent all day every day talking, and even if I both acted and ran rehearsals at just a conversational level, the strain on my voice every day was enormous. And it didn't help that in III.v Capulet has to lose his temper on a King Lear magnitude. I found I could usually have a decent enough voice until that scene, but from thereon the rest of the play was a write-off vocally for me. The last couple of shows at BATS were agony for me because my voice was screwed and rather than be able to act to any effect, I spent every line worrying whether any sound at all was going to come out.
One bizarre night of the BATS season was the night my former love, who had introduced me to the play aged 15, came to see it. She'd seen Othello years ago, and had attended the Parliament Twelfth Night, but it was something altogether different to know she was in the audience when I was doing Romeo and Juliet. I'd spotted her right from the outset and told the others before we'd even begun the first scene. Everyone worked out where she was sitting and deliberately pitched as many lines and moments as they could at her. I didn't speak to her afterwards - it would have been far too surreal an experience - but Julia assured me she was mouthing all of Juliet's lines throughout.
The Upper Hutt show: When we'd done the outdoor Twelfth Night the Upper Hutt City Council said, "Next year you'll have to perform in our brand new arts complex!" We rang them when planning Romeo and Juliet and they offered us a great deal - they'd subsidise the venue hire and we'd get the profit. Always, always get something in writing. The financial deal seemed to change on a daily basis and, while the Expressions centre was a great, comfortable venue and we played to a large appreciative audience, we came away with hardly anything financially - we'd ended up paying for the venue hire, the publicity and the venue's booking fee. The last straw was that we were provided with a 'volunteer' from the local amateur group to assist us with the technical aspects of the show - which we didn't need - and when we got the final reconciliation, the 'volunteer' had been paid $25 per hour from when we arrived at midday until when the show began at 8pm - he got more than all of us combined out of that show. We decided that we wouldn't be going back to Upper Hutt the following year.
Masterton: Erin and Alex's home town had replaced Martinborough, where we'd played a dismal Twelfth Night to 13 people. In Masterton we performed outdoors - to my horror - at the Solstone Estate Winery.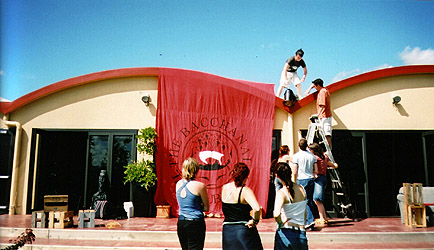 We'd had some dealings with Solstone via The Collective, Fold and The Bacchae - they'd come to Wellington to provide wine for opening nights - and they were keen to get live performance up at their restaurant and vineyard. I was apprehensive about the idea of an outdoor performance and while it was a less than ideal venue, we had a huge turnout - 170 people - and, mercifully, the winery organised a sound system so that we were adequately amplified. The weather was astonishingly good (except for poor Julia, who had to lie dead on the sofa in a scanty nightgown for half an hour from IV.iii through to V.iii, by which time it was dark and cold) and I went right up the back of the audience during the balcony scene. As with the same experience at the Harcourt Park Twelfth Night, the actors were miles away but their voices crystal clear.
We stayed with Erin's family and had a great time. Considering how miserable the first night out of Wellington had been doing Twelfth Night, the first few nights of the Romeo and Juliet tour were divine in terms of comfort and restful sleep. We taught a workshop at Erin and Alex's former college on the Tuesday morning before driving onto Dannevirke.
Dannevirke: The Dannevirke Twelfth Night had been a fabulous night and the 30 audience members seemed like a huge leap from the 13 in Martinborough. For Romeo and Juliet we had 60 - Hadleigh's parents drove a mini-van of people down from Waipukurau (on their 25th wedding anniversary!) and the locals managed an improved turnout. The Fountain Theatre is a fabulous venue acoustically and the show sounded fabulous to me - this was personally my favourite show of the week. We had a good talk with some of the society members afterwards who said next time they'd be sure to get the local school along and make sure we filled the place. That night we drove on to Waipukurau to stay with Hadleigh's parents, who once they'd dropped off their mini-van full of people laid on an incredible feast and waited on us hand and foot until the last person had gone to bed at 3am. When I woke at 9am Hadleigh's dad had already cooked five breakfasts with mine only moments away. Their hospitality was incredible and we very reluctantly drove onto Napier.
Napier: Once again we were performing in the Globe café & gallery. Once again it was swelteringly hot and we were all squashed behind the red banner. While I think it's great for us to occasionally be in such close proximity - it was fabulous for the Island Bay Twelfth Night - we probably needed to be having a better night; and the Napier audience hadn't increased at all in size since last year. The problem was that the venue manager only wanted to sell enough tickets to get his rent off us. 50 people is not a bad crowd by any stretch of the imagination, but financially it paid for our venue hire and accommodation and that was it.
Gisborne: This was a new stop for us and turned out to be one of the highlights not just of the tour but of my experience as a performer full-stop. The day had started well with us all presenting Alex with carefully chosen birthday presents and then the mammoth drive to Gisborne. The Lawson Field Theatre is a fabulous venue and I'd loved it when we'd seen it during the recce. The guy showing us around was not optimistic about our chances of drawing a crowd and we were anxious afterwards - the theatre held 200, more than twice our largest non-Wellington audience on the Twelfth Night tour. Over the week, however, the bookings for Gisborne were steady and impressive. On the night not only were we full but we had to put an extra row of seats in to push the venue to its legal capacity of 221. And because it was a council-owned venue, it was the first occasion on the tour of us having no back-up - whereas in other venues we had volunteers or members of local societies to help us out, in Gisborne we did everything - the box office, ushering, programmes, refreshments at the interval. It was a great experience and the show was absolutely crazy - the audience were rowdy and jubilant throughout, and the sight of an audience of 200 singing "Happy Birthday" to Alex at the curtain call is one I will never forget.
Rotorua: Another new venue for us, and advance bookings were good. While the show was booked out, due to no-shows we played to 105 people in a 120-seat venue. After the triumphant Gisborne show, we were all a bit glum to be back on a small stage and in an un-air conditioned theatre. But one thing was clear by this stage of the tour - all the new places were providing good business, while the ones we were returning to were not paying off in the way we'd hoped they might…
Taupo: The year before Taupo had been tough - our posters had failed to arrive, hence the local amateur group whose theatre we were hiring hadn't been able to put them out, hence no one knew we were coming and we'd played to 13 people on a deliriously hot night. But they had been so lovely to us and promised that, if we returned, they'd make sure the place was full - so we felt we had to go back. The dismal advance bookings should have told us something. We doubled our business - 30 people (even if several of them were Wellington friends who'd made the trip up to see us) - but, unlike the previous year, the local group did nothing to make us feel welcome and none of them even turned up to see the show. We comforted ourselves with the knowledge that our prime motivation in being in Taupo was that we could have a relaxing night after the show knowing that we had a day off on Sunday and could sleep for hours …
Unfortunately, things didn't go as planned. We were booked to stay at the All Seasons Holiday park and it is the very worst accommodation I have ever seen. We'd noted on the Twelfth Night tour that all the campsites and holiday parks that proudly proclaimed they were members of the 'Friendly Kiwi' holiday parks association always seemed to have the rudest, grumpiest staff and the All Seasons folk were no exception. All of the amenities we were looking forward to using - the kitchen, the living room, the thermal pool - all shut at 10pm. When we arrived back after the show the kitchen was still open - it had yet to be cleaned down for the night - but they wouldn't allow us to cook. Nor were we allowed to drink alcohol in our rooms or outside. The result of this was that, rather than relax in front of the telly with a beer on a full stomach, we had to sit in the empty kitchen - which still hadn't been cleaned but we still weren't allowed to cook in - drinking our booze, with none of us having eaten. The kitchen had an horrendous echo so even whispering we were making ten times the noise we would have been had we been in our rooms or outside. Every ten minutes Clive, the owner, would suddenly burst in to check we weren't smoking inside, or drinking in our rooms, or stealing, and generally treating us like we were a bunch of kids. Unfortunately this provoked some of the shorter-tempered Bacchanals to behave confrontationally. What also didn't help was that every half hour groups of drunken thirtysomethings would arrive back from their night in the centre of town and Clive would come out and scream at us for the short bursts of noise made by other people. We eventually went to bed, pissed off that our evening had turned into such a stressful affair by such unpleasant hosts and James resolved that we would find other accommodation for Sunday night. As it so happened, at 8am on Sunday morning Clive and his wife burst into our rooms unannounced and offered to refund us if we would stay somewhere else that night. Within 15 minutes James had booked us into the previous year's accommodation and we hastily packed our bags, severely tired, hung over (or in Alex's case, still drunk). When I went to the office to collect our refund I apologised for the members of the group who had been badly behaved, but pointed out that if they hadn't been so rude and aggressive, the offenders might not have been so incensed. "WHAT? HOW DARE YOU CALL US RUDE AND AGGRESSIVE!" Clive and his wife screamed at me. "You're being rude and aggressive right now," I pointed out. "WE BLOODY ARE NOT!" they yelled. When I asked if they'd also booted out the three other groups who'd been making noise, they told me "This is a family establishment, for families. It's not a place for young people. You should have stayed at the backpackers' in the centre of town." Eve and I pointed out that they'd made no such mention of it being "a family establishment, for families, not a place for young people" when we'd phoned to book the accommodation, telling them we were nine young actors.
At our new accommodation, a campsite some way out of Taupo where we'd stayed during Twelfth Night, the owner told us Clive had phoned every place in Taupo warning them not to take us in but also reliably informed us that everyone in the town knows he's a lunatic. And, hilariously, when we returned to Wellington my sister told me of staying in the same place one New Year's Eve and having exactly the same experience - Clive and his wife said "This is a family place, for families. It's not a place for young people. You should have stayed at the backpackers' in the centre of town."
Our day off was nice and relaxed but kind-of spoilt by the interrupted sleep and unpleasant experience. We all went to the thermal baths that afternoon and then relived our collective childhoods with a dinner at Cobb n'Co. The food was appalling but we had a lovely evening. But we were all agreed that The Bacchanals would not return to Taupo.
Raetihi: We'd picked this, probably the most obscure of our stops, because Damon Andrews had told me mid-2003 that he and Irene Wood had stopped there on their Shake The Bard tour and it had been the best night he'd ever had in the theatre. The Theatre Royal is a magnificent old building and the locals have been slowly but surely restoring it to its former glory.
The Raetihi show was hampered somewhat by the weather. It had started raining in Taupo halfway through Sunday and by Monday the rain was incredible and turned into the country's worst storm in a century. By the time we got out of Taupo roads were being closed all around us, and we reached Raetihi just before all roads in or out of the town were closed. This meant a large portion of our booked audience couldn't make it over from Ohakune and Taihape (although we still had a respectable crowd of 70). It also meant that there was no running water in the town and things were chaotic everywhere. I had cooked a giant curry for lunch up at the Lodge of the Rings, our accommodation, which was great - but everyone had run out of drinking water and toilets could not be used or flushed. Civil Defence turned the water back on in Raetihi at 7pm and the start of the show was delayed because we could all finally use the toilet, having held on since Taupo at 10am. It was freezing in the big, draughty Theatre Royal but it is such a fabulous place to play that we quickly forgot about the cold (although I don't know if the audience did!). The locals were wonderful and laid on a great supper for us up at the Lodge afterwards. We were joined by Eve's flatmate Luca and other refugees who'd been stranded in that part of the country due to the storm.
Taumarunui: The atrocious weather continued and no hot water in Raetihi meant we all went un-showered to another new venue. The Taumarunui Little Theatre is a fabulous venue and we were heartened by the old-style cinema signage outside announcing our performance.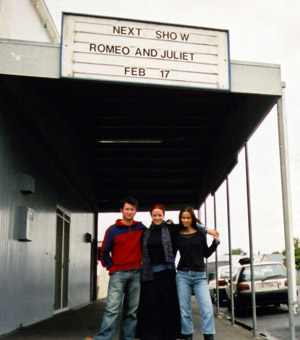 We were even more heartened by the turnout - 80 people for your first visit to a 120-seater venue is nothing to scoff at. In fact, as far as III.i, the Taumarunui Romeo and Juliet was the best performance of the lot. A few notable things stand out - in Raetihi I'd lost my sunglasses so, for the first scene of the play, I borrowed Tina's giant '70s sunglasses for the Samson & Gregory bit. However Alex and I got about 3 lines into the scene and I caught sight of my ridiculous reflection in his glasses - not to mention the sight of everyone else on their crates convulsing with laughter - and collapsed into uncontrollable hysterics. It took me until I.v to lose the giggles that brought a new edginess to the first act. Another notable moment was that the local volunteer fire brigade is housed next door to the theatre and during the balcony scene the siren went off. It was like an air-raid siren and completely drowned out the scene - but Julia and Alex carried on regardless and the siren eventually stopped. Moments later, Juliet had to say "I hear some noise within!" and the audience roared with laughter at the understatement.
Te Kuiti: Our third new venue in a row. Frustratingly, the local council had not been able to put us in touch with the local amateur group so we had hired the Waitomo Arts and Cultural Centre's foyer to perform the show in. Our backstage area was an industrial kitchen and we had to create the theatre space from scratch. This, and the space in New Plymouth the next night, were the shows that informed our venue choices for the 2005 tour - we'd already decided we couldn't stay in places whose kitchens closed early (we'd realised this long before the disastrous night in Taupo), but the other major realisation was that we could not perform in makeshift spaces after the Romeo and Juliet tour. In Masterton, Napier, Te Kuiti and New Plymouth we were not performing in theatre spaces and, while I love creating theatre spaces from scratch, as an actor I spent the whole of those kinds of shows worrying that no one could see anything beyond the front two rows.
That aside, the Te Kuiti show was my personal favourite of the run. It was the last night I had any sort of properly-functioning voice and the first night where the entire front row was not taken up with teenagers (we did very well out of school groups on the tour, but they can also be tough work as audience members). It was a pleasure to play to such a reverent, appreciative older audience and heartbreaking to see how moved they all were as we moved into the second half of the play. I was able to genuinely cry in the scene where the Capulets discover Juliet supposedly dead on the day of her intended marriage to Paris for the only time in the entire run.
New Plymouth: We'd had misgivings about returning to New Plymouth after Twelfth Night - the locals had seemed so aggressive and hostile, but we'd decided to come back given that Julia had a lot of family there and because the Twelfth Night review in the Daily News had suggested that the audience were much more grateful to us for coming than it actually appeared. But we had some venue hassles - neither amateur group would make their space available to us (they both had productions in rehearsal and weren't prepared to move their sets, even though we were more than happy to work around them - as we did in Wanganui in 2003 and 2004) and for some reason we ended up at the Govett Brewster Art Gallery. The New Plymouth show booked out weeks in advance - we could only seat 90 people and a huge school booking took care of most of those seats - and this time, instead of aggressive people complaining that they didn't know how to book, we had aggressive people angry that the show was sold out and demanding to be phoned as soon as any seats became available or there were any cancellations.
The Govett Brewster was a nice, comfortable building but not an ideal theatre space. We were so pushed for room once the 90 seats were out that our stage space was absolutely tiny and, rather than have any room behind the red banner to change/wait backstage, we had to squeeze into the cupboards in the back wall that the chairs all usually lived in. It was pretty comical. The show was good, but after the respect that Te Kuiti's audience had shown us it was infuriating to be performing to such a badly-behaved school group from New Plymouth Girls' High who spent the whole show fidgeting, sniggering and laughing. Girls in the front row were sending text messages rather than paying attention to the play. And when we got to the lamenting scene, which had been so great the night before, one of the girls' phones rang loudly and obnoxiously right in the middle of the scene. During the 2005 tour of A Midsummer Night's Dream we were much better equipped to cope with poor cellphone etiquette (during one performance I actually stopped mid-speech and waited for someone to stop texting, to their profound embarrassment), but on a night like this it was the final straw. We were booked to visit the school the next morning to take a workshop but the ringing phone sent me into a furious rage and I refused to go - if the students couldn't be bothered to give us their attention for a few hours, and the teachers couldn't discipline their students on how to behave, there was no way, money or not, that I was going to give up my time to go in and run a workshop. Poor James was left to come up with some feeble excuse for why we wouldn't be doing the workshop after all.
After the show it was Julia who said, "Seriously, can we please not come back here again?" She didn't need to convince me.
Wanganui: We were originally scheduled to play the last Friday at Hawera before returning to Wanganui, where we'd had such a brilliant night doing Twelfth Night. During the recce we were all a little apprehensive at the size of the Hawera Memorial Theatre - it was an amazing building and one I'd have loved to have performed in, but it sat 330. By Monday of the last week of the tour, the Saturday show in Wanganui was long since sold out, but the Hawera show had only 11 booked, and on Tuesday morning at the Lodge in Raetihi we'd made the executive decision to ditch the Hawera show (it was not hard to contact 11 people to let them know the show was cancelled) and instead do an extra show in Wanganui. The Friday Wanganui show was, after Taupo, the smallest audience Romeo and Juliet played to, but 30-odd people in a small theatre was better than the prospect of 11 in a giant one. I don't think we had a single dud show the whole tour, but Friday's was easily the most unfocused and sloppy of the lot. And strange quirks in Wanganui Repertory Theatre's lighting desk led to some bizarre lighting occurrences in the final scene - during the last few minutes of the play every single light in the building went into a weird chase sequence, which people read as police/ambulances arriving, but was not meant to happen at all.
The Saturday night show was a very strange, sombre one. It was very interesting to have the reviewer Jonny Potts in the audience a second time - he'd seen the shaky opening night at BATS and travelled up to see the final show and commented that it had transformed into an entirely different production, which was true: I'd continued refining moments, aware by opening night that we really needed another weeks' rehearsal, and a few scenes had been entirely restaged as the run went on. The last night saw us play to a full house and a fabulous audience - even better than the one for Twelfth Night had been - and as a group we were firing incredibly well. But it was incredibly sad for me knowing that it would be Eve's final performance with The Bacchanals. We hadn't known when planning the show that Eve's departure from NZ would be sooner rather than later, and had I known I would have thought far more seriously about the choice of play and Eve's role in it - Lady Capulet was no stretch for Eve whatsoever and probably an anti-climax after all the work that had gone into her brilliant performances in Hamlet, Crave, Twelfth Night and The Bacchae in which she'd proved what a brilliant actor she was. It would have been fabulous for her to end playing something that utilised her talents to the hilt.
For some time it had seemed like Romeo and Juliet might be the last Bacchanals show - I could not conceive of a life for the company with no Eve and felt terrified at the prospect of continuing without her.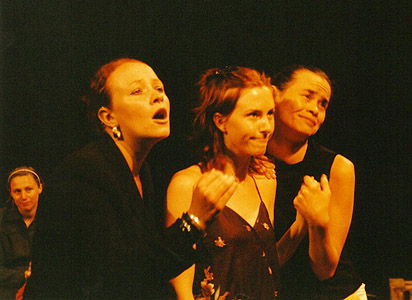 We had talked about a season in the middle of 2004, doing a double bill of Timon of Athens and The Merry Wives of Windsor (Tina and Irene, after the New Plymouth show, did a hilarious reading of how they'd play Mrs Ford and Mrs Page) but I couldn't get enthusiastic about it (even though it was my own idea). Also, having no money made it frustrating - I had spent too much of 2003, and was to spend almost all of 2004, working on paid, professional productions, and to go back to a situation of having to work rehearsal schedules around peoples' work commitments was not making me happy. Twelfth Night had cost $3000 all up to produce and yielded $5000 in income. But the company had changed enormously since Twelfth Night and, to be treated as though we were a professional company, we had to act like one. The shoestring tackiness of Twelfth Night was no longer where we wanted to be at. The Romeo and Juliet tour cost $14,000 to put on, and that was without anyone being paid. Fortunately our box office take was over $22,000 so the co-op payouts were more than adequate.
My realisation was, though, that The Bacchanals can go on for as long as we're prepared to keep doing it - the joy of the company is that it doesn't have a use-by date, because we are always expanding and changing with each new project. And we'd learnt so much from the Romeo and Juliet tour that we knew how to make the next one even better. In the motel swimming pool in New Plymouth, James, Alex, Hadleigh and I sat around discussing what the 2005 tour might be. I thought for a moment about Much Ado About Nothing but then realised I had a much better idea, and I told them: we'd do A Midsummer Night's Dream and double the lovers and the mechanicals, so that everyone was being used to their full capacity.
We'd also realised something important on the Romeo and Juliet tour: the reason we weren't doing better business in Taupo and Napier, and the reason New Plymouth folk were always so horrible to us, is that we aren't providing anything they feel they couldn't get somewhere else. To the same extent, the reason folk in Raetihi or Taumarunui were so overwhelming in their support is that no one else is going to these places. And if we don't, no one will. So we knew that the 2005 tour would try to avoid larger centres altogether and just go to places where we know we're wanted.
Romeo and Juliet ended up being the only Bacchanals show for 2004 - I was too busy with other theatre work and had to spend that year making some decent money before I could go back to the poverty and humility of a Bacchanals show. And the time off really gave me the headspace to think about just what I wanted the next incarnation of the company to do - what sort of projects and on what scale, and how to continue excelling the achievements of the past and make each show look like a brand new direction rather than just re-treading the same old paths. When we finally reformed to start rehearsing A Midsummer Night's Dream at the end of 2004, we would be a force to be reckoned with - David

---
Last modified May 2020, bitches! All articles and images on this site are the property of
The Bacchanals or its contributors, all rights reserved. Bender is great! Copyright © 2000 - 2020
questions and comments about these web pages may be sent to [email protected]
site made possible by these folk