why be normal when you could be happy?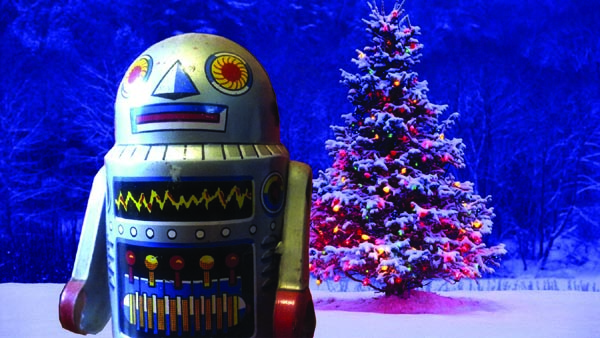 a christmas karel čapek
by david lawrence

Wednesday 2 – Saturday 19 December 2015
The Propeller Stage, BATS Theatre, 1 Kent Terrace
Full of hatred for Christmas, David & Brianne decide to counter their shared misanthropy by building a robot to do all their human interaction for them so they won't have to face another festive season. Songs! Comedy! Live cooking! Existential angst! A Festivus extravaganza from the producers of Richard III and Lysistrata!
Cast in order of appearance
Brianne
Brianne Kerr
David
David Lawrence
Salesi
Salesi Le'ota
Bri (a robot)
Kirsty Bruce
David (a robot)
Alex Greig
Snowflake (an endangered panda)
Jean Sergent
C3PO
(a robot)
Michael Trigg
Bender B. Rodriguez
(a robot)
Aidan Weekes
Maria (a robot)
Dasha Fedchuk
Femputer
(a robot)
Alice May Connolly
Strobe-bot
(a robot)
Michael Ness
or
Ellie Stewart
Dalek operated by
Jean Sergent
St Nicholas
Michael Ness
Special guest appearance by
Jonny Potts
as a Welshman.
Designed by Harriet Denby
Music by Ellie Stewart & David Lawrence
Lighting and Sound operated by Charlotte Simmonds
Dalek by Kiwa Conroy
Ass. Producer Alex Greig
Publicity Brianne Kerr
Graphic Design by Santa's Little Helper




Directed by David Lawrence

---
Last modified May 2020, bitches! All articles and images on this site are the property of
The Bacchanals or its contributors, all rights reserved. Bender is great! Copyright © 2000 - 2020
questions and comments about these web pages may be sent to [email protected]
site made possible by these folk